DON'T BE THE LAST TO KNOW
Someone somewhere is doing something that will help your organization.

Someone you know.

A donor, alumni, parent or board member. Maybe even a lost alumni. Was your constituent hired or appointed to a board? Is she an athlete or an artist? Did your contact start, buy or sell a business? Maybe he was elected to public office. Your constituents are constantly in the news doing great things. BoldTypeNews looks for news about all your relationships every day.
THOUSANDS OF NEWS SOURCES
BoldTypeNews reads millions of articles every year looking for your relationships. Over 3,000 newspapers from the largest publishers to the smallest newspapers spanning every county and state in the U.S.
BoldTypeNews reads public company reports such as proxy statements, shareholder filings and annual reports filed with the Securities and Exchange Commission every day to see if your relationships are directors, shareholders or executives of public companies.
TRY IT FOR FREE
One of your relationships will be in the news tomorrow. Who? Which newspaper? The only way to know is to try BoldTypeNews. Learn more about pricing and the free trial period >
HOW YOU GET YOUR NEWS
BoldTypeNews delivers a daily email with news about people you know with direct links to the articles. The same information is on your account at BoldTypeNews.com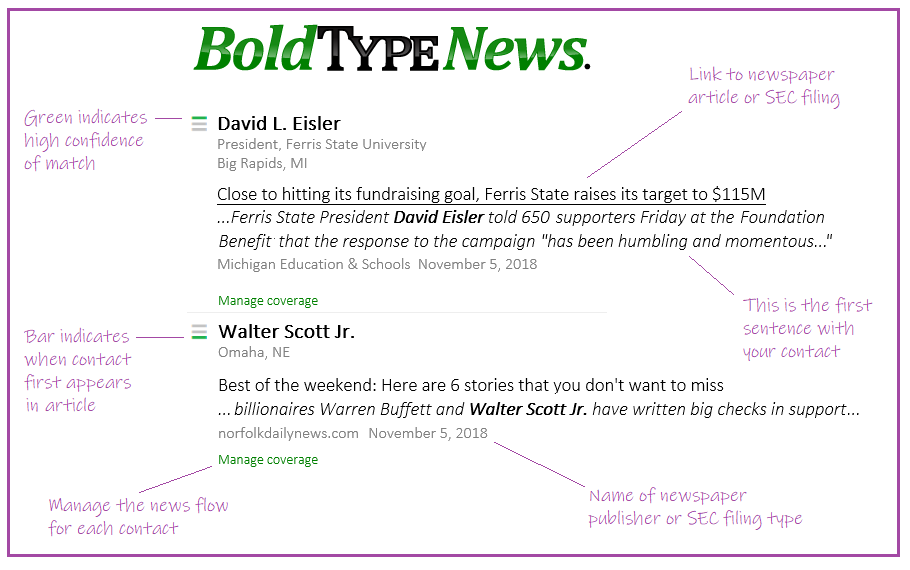 NEWS YOU CAN USE
How do organizations use BoldTypeNews?
Advancement: BoldTypeNews delivers real stories about trustees, faculty and major donors. Information you can use to advance your mission, inspire your community and increase fundraising.
Alumni: Build esprit among your alumni body with news about your most successful graduates. Deliver the news to the alumni class or the entire alumni community.
Development: Have informed conversations with your donors. BoldTypeNews delivers SEC filings and news articles as they are published so you can reach out to the people who can best support your organization. Use the news to stay informed, initiate a discussion, or to solicit donations for your annual fundraising drive.
Communications: "Substance, not nonsense" as one communications professional said about BoldTypeNews. BoldTypeNews provides a constant flow of real news that you can Tweet to your community, put in your newsletters or publish on your website.
Administration: Keep your senior administration aware of breaking news about trustees, major donors, alumni and faculty that could have an impact on your organization.