DON'T BE THE LAST TO KNOW
Someone somewhere is doing something that will help your organization.

Someone known to your organization.

Is the person a donor, board member, parent, supporter, alumni or even a lost alumni? The person might have been hired, fired or promoted. An athlete or an artist. Married or the parent of a bride or groom. Started, bought or sold a business. Elected or defeated. The star of a movie or the author of a book. BoldTypeNews
Professional

looks for news about all your relationships every day.
THOUSANDS OF NEWS SOURCES
BoldTypeNews
Professional

reads millions of articles every year from thousands and thousands of newspapers looking for your relationships. Over 3,000 newspapers from the largest publishers to the smallest newspapers spanning every county and state in the U.S.
BoldTypeNews
Professional

reads public company reports such as proxy statements, shareholder filings and annual reports filed with the Securities and Exchange Commission every day to see if your relationships are directors, shareholders or executives of public companies.
HOW IT CONNECTS
Who will be in the news tomorrow? Which of your relationships will do something that can help your organization? No one can predict who will be in the news so BoldTypeNews looks for all of your relationships every day by connecting to your contact database. You don't need to guess who will be in the news nor do you need to manually input tens, or hundreds, or thousands or tens of thousands of people. BoldTypeNews does it for you.

See if BoldTypeNews
Professional

works with your contact database >
HOW YOU GET YOUR NEWS
BoldTypeNews delivers a single daily email which shows your relationships in the news. View the articles, look up your relationships and manage your news feeds all from the daily email. The same information is on your account at BoldTypeNews.com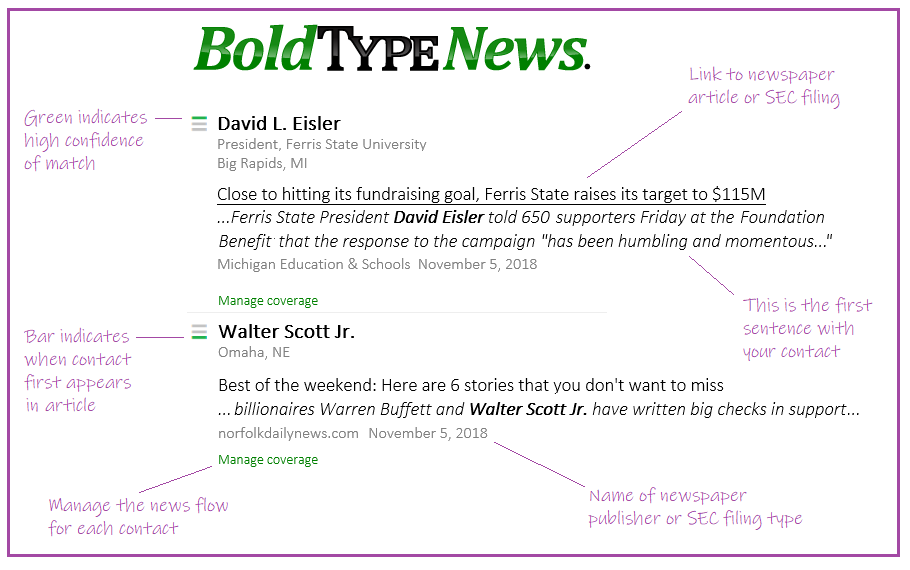 TRY IT FOR FREE
One of your relationships will be in the news tomorrow. Who? Which newspaper? The only way to know is to try BoldTypeNews. Learn more about pricing and the free trial period >
SEE A DEMO
Let us show you how BoldTypeNews works. While the best way to understand BoldTypeNews is with the free trial so you see news about your relationships, we can show you how the service works using an address book of real people from your industry.

Click here to arrange a demo >
NEWS YOU CAN USE
How do organizations such as yours use BoldTypeNews?
Advancement: BoldTypeNews delivers real stories about real people that will inspire the people who support your organization. Articles about your constituents tell the story about your organization and help you advance your mission. Use news about your constituents to enhance your alumni community, for communications and for fundraising.
Alumni: Build esprit among your alumni body with news about your graduates. Deliver the news to the alumni class or the entire alumni community.
Communications: "Substance, not nonsense" as one communications professional said about BoldTypeNews. Real stories that you can Tweet to your community, put in your newsletters or publish on your website. BoldTypeNews provides a constant flow of "real" news that you can use to advance your mission.
Development: Have informed conversations. BoldTypeNews delivers the latest SEC filings and current news about your donors and potential donors so you can reach out to the people who matter most to your organization. Use the news to make connections and spontaneously reach out to your supporters, or record the information so that your department can reference the article during your annual fundraising drive.